Student Center East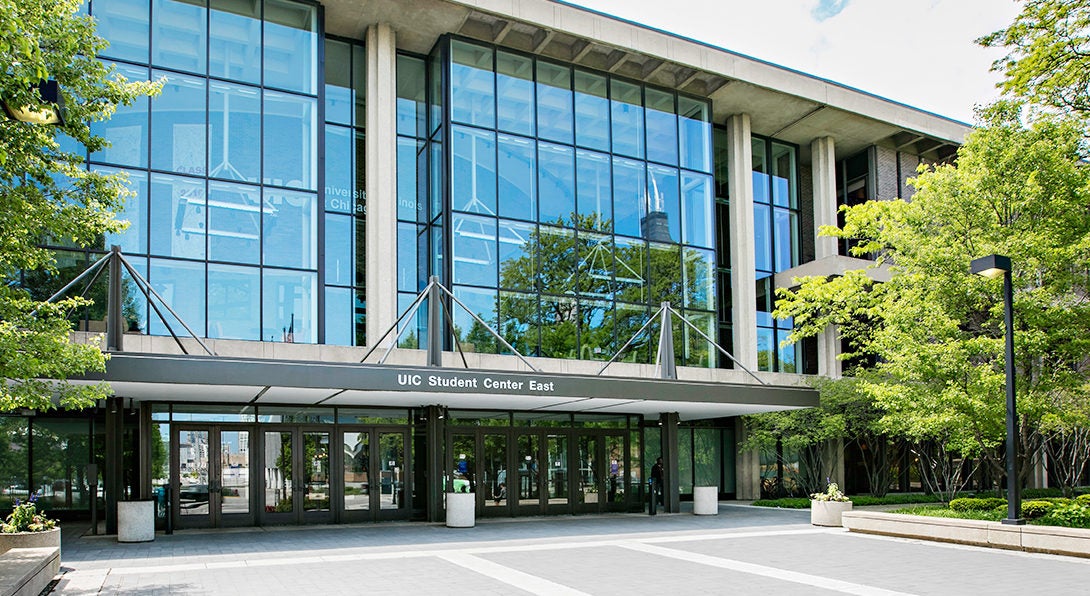 Student Center East
This Walter Netsch designed facility with modern updates sits at the "Front Door" to the East Campus. Located on Halsted St. just south of the Jane Adams Interchange; it affords sweeping views of the Chicago Skyline.  This venue provides a variety of meeting rooms to fit just about any need. The Tower Rooms consist of 7 spaces, spread over three floors, housed at the north end of Student Center East.
SCE Cardinal Room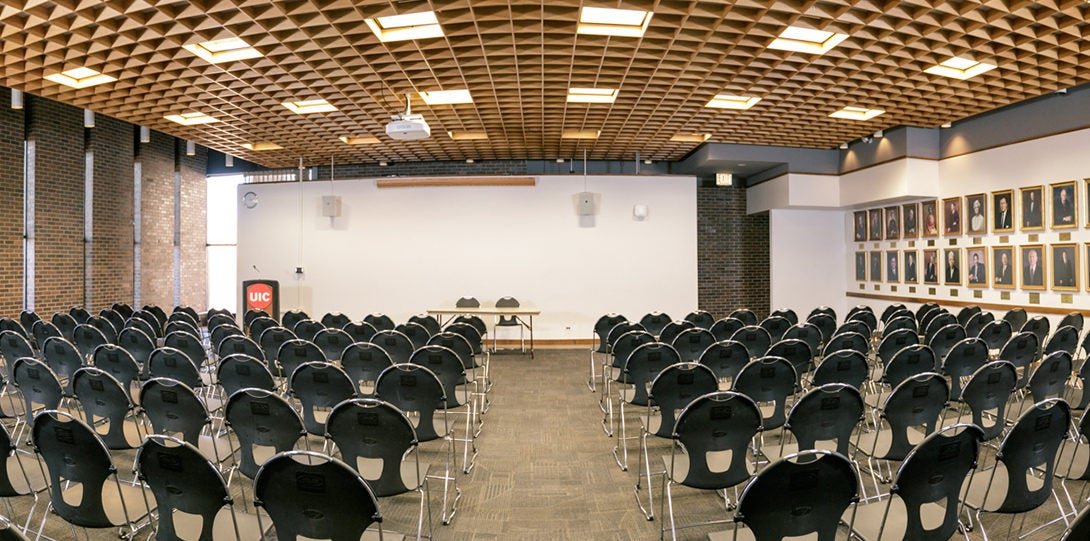 Along with its anteroom, this comfortable space, with brick features is ideal for medium sized lectures or meals.  Complimented with carpeting and shear curtains the room has an inviting natural feel.  Coupled with a small lounge area, this in demand location is a favorite venue of our guests.
Setup Diagrams of SCE Cardinal Room
SCE Fort Dearborn Room
Fort Dearborn AB is a horseshoe shaped space featuring a curved wall of art and low ceilings.  A is an open space with access to Illinois C and overlooks the East Terrace.  It is best used as a pre-function space or registration area.  B, with its views of the inner campus and overlooking the West Terrace, works great as a breakout room accommodating up to 90 in an auditorium setting. Combined, Fort Dearborn is perfect for receptions and small gatherings.
SCE Illinois Room A, B & C
Illinois A, B & C create the largest space available in the venue.  The soaring 20ft. high, carpeted rooms provide an open and spacious environment allowing for a variety of configurations.  Illinois B & C feature floor to ceiling widows with northeast views of the city, with Illinois A featuring an accent wall.   Each room is equipped with built-in Audio and Visual components.  The combination of Illinois A & B allows for auditorium seating for 500+ or dining for 300.  Illinois C can host lectures for over 100 guests or a more intimate dinner setting for 56.  Illinois B & C can be paired with a foyer allowing for registration or catering space.  The rooms easily accommodate anything from medium sized productions to vendor/employment fairs.
Room arrangements and capacities are customized based on event.
Setup Diagrams of SCE Illinois A,B & C
SCE Illinois Room A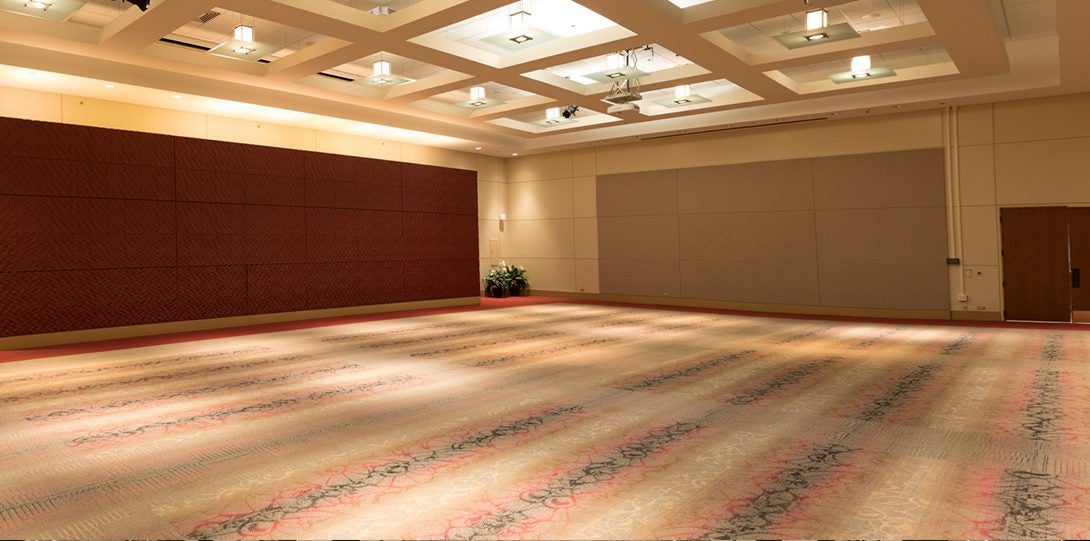 Setup Diagrams of SCE Illinois Room A
SCE Illinois Room B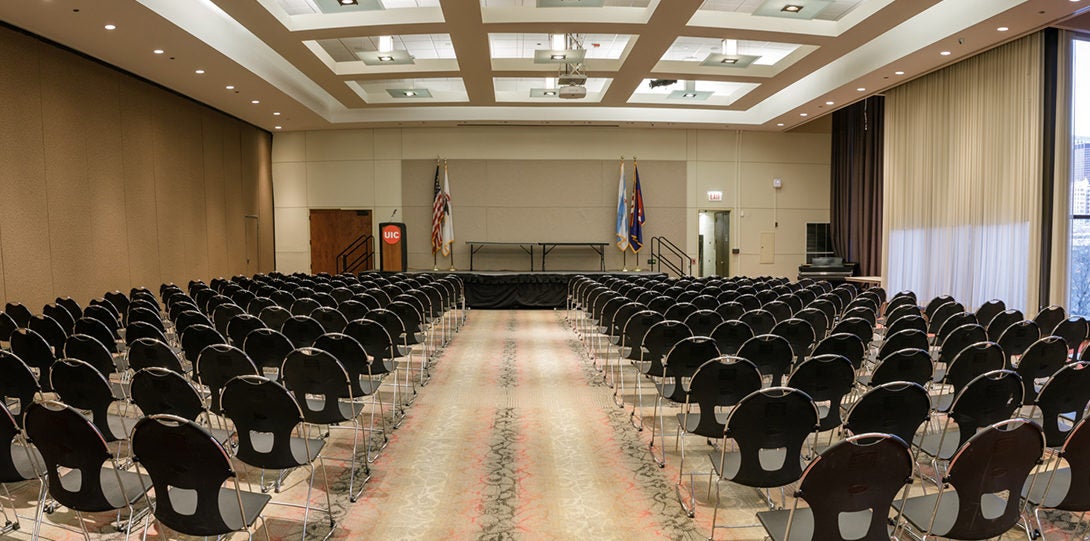 Setup Diagrams of SCE Illinois Room B
SCE Illinois Room C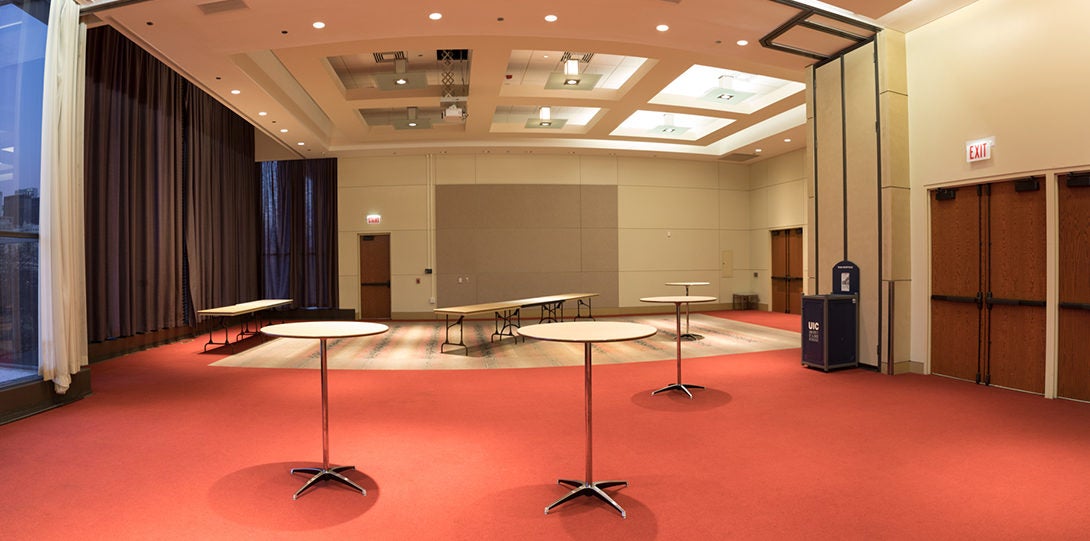 Setup Diagrams of SCE Illinois Room C
SCE Illinois Room A, B
Setup Diagrams of SCE Illinois Room A, B
SCE Monarch Room
This technology heavy room comes equipped with a Mondopad and features a built in computer.  The elegant all-in-one touchscreen collaboration system allows for efficient face-to-face collaboration with people anywhere. Video conference, whiteboard, share data, and more — you'll never want to meet without it. The soaring ceiling height and ribbon windows allow for natural light to bath the room complimenting the views of the Inner Campus.  The space has a permanent set up of a conference table for 12 people with space on the side for additional seating.
Setup Diagrams of SCE Monarch Room
(Coming Soon)
SCE Praire Room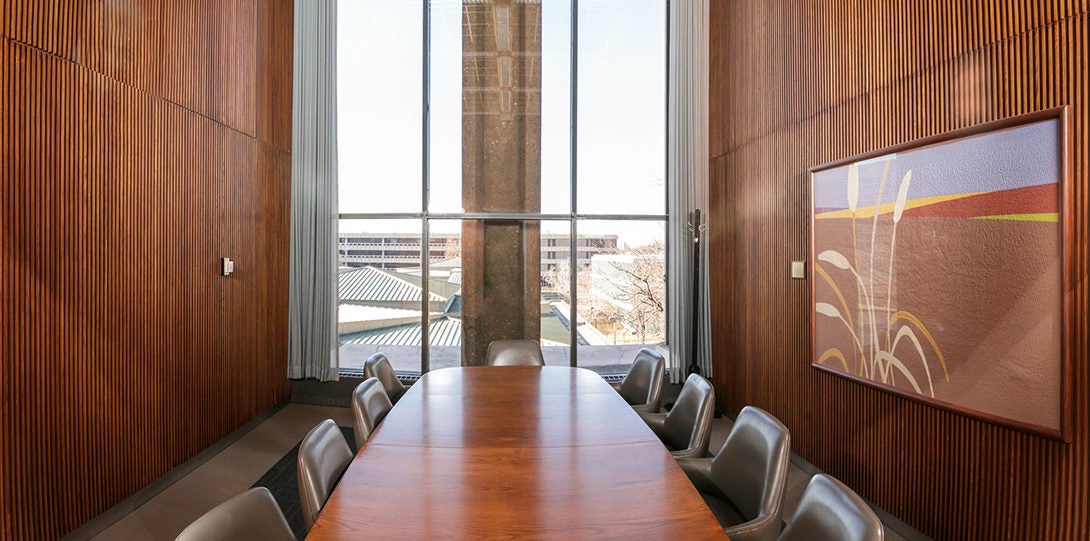 Rounding out the 3rd Floor Conference Center, this Board Room comes with a 14 person conference table and credenza. The high ceiling and west facing windows create an open and inviting atmosphere for any small meeting.
Setup Diagram of Praire Room
SCE Whiteoak Room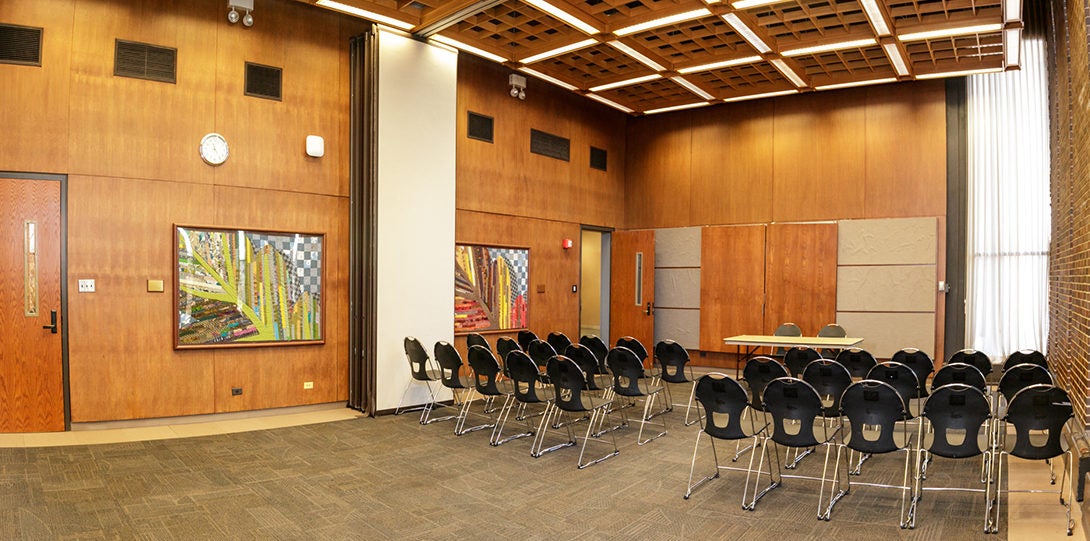 This is the perfect breakout space to compliment the Illinois Rooms or equally suitable for medium sized meetings.  The room comes complete with a data projector and screen.  Featuring views of the Lecture Center, the space can fit up to 60 in an Auditorium setting or 48 for dinner. The high ceiling and west ribbon wall create a spacious environment.
Setup Diagrams of White Oak Room
SCE Meeting Room 302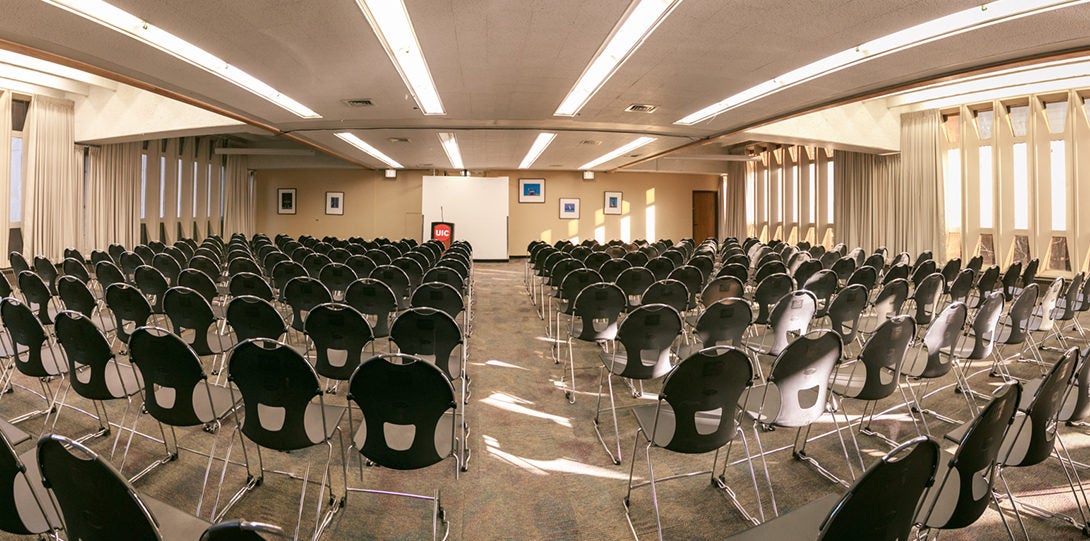 This highly versatile space is always in high demand.  Located on the 3rd floor of the Tower it provides sweeping views of both the north and south sides of the city.  Its unique U shape allows registration tables and food service tables to be located in the space yet separate from the main area.  Able to handle lectures up to 240 or dining for 120, this the perfect room to host your next meeting or formal dinner.
Setup Diagrams of SCE Meeting Room 302
SCE Meeting Room 603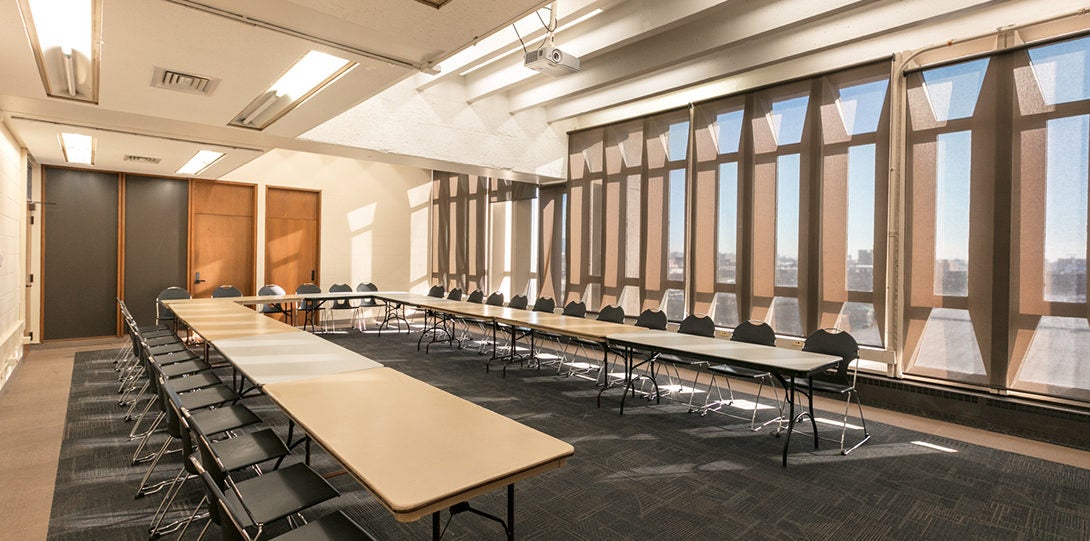 This room features a south facing window wall allowing for day long natural lighting.  It will service an auditorium setup for 70 or classroom space for 36.  It is a favorite room of departments and student groups alike.
Setup Diagrams of SCE Meeting Room 603
SCE Meeting Room 605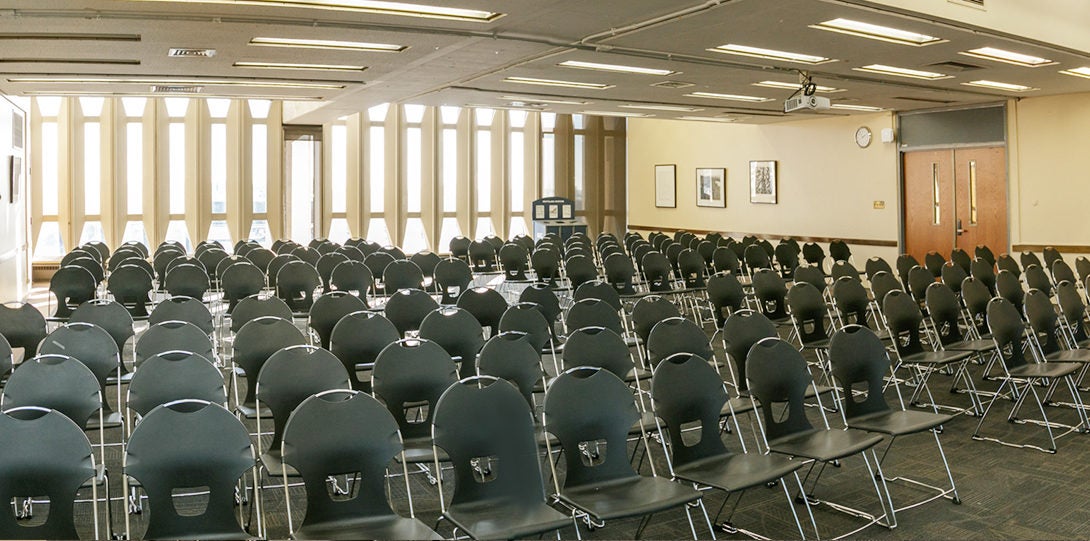 This generous sized room anchors the 6th floor. Rectangular in shape with views of the north and   south sides, it is perfect for medium sized groups. The room can host lectures of 200, classroom for 75 or meals for 120 guests.  You can use the space as a keynote location with the addition of any of the other four rooms available on the floor.
Setup Diagrams of SCE Meeting Room 605
SCE Meeting Room 610
Room 610 is perfect for small meetings. The permanent set up is a conference table for 16.
SCE Meeting Room 611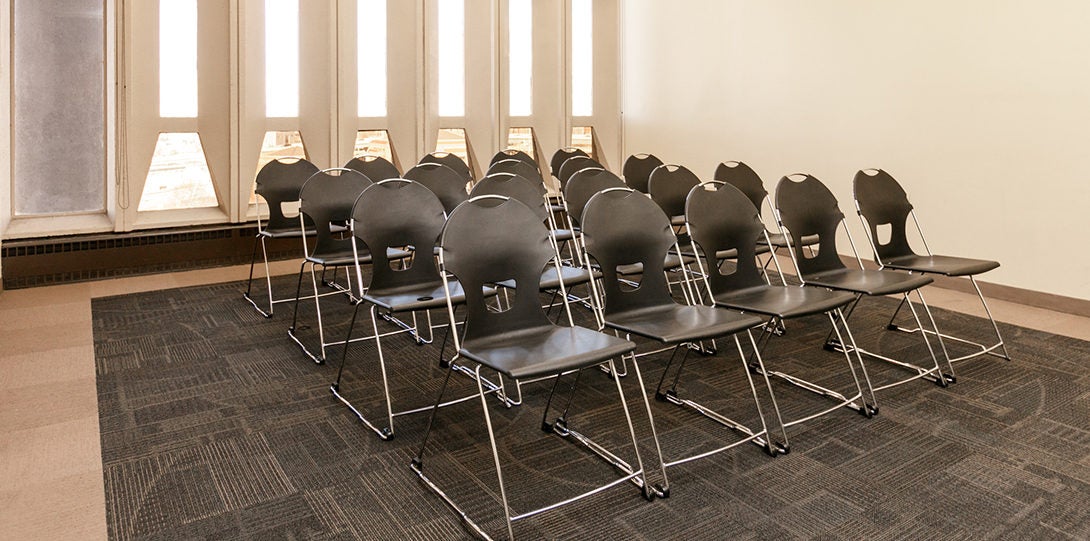 This intimate space is just right for a small lecture or breakout room. An auditorium setup for 20 is the permanent arrangement for this space.
Setup Diagrams of SCE Meeting Room 611
(Coming Soon)

SCE Meeting Rooms 613/713
SCE Meeting Rooms 613/713
SCE Meeting Rooms 613/713
SCE Meeting Room 613
This medium sized space comes with built-in coat racks and sheer drapes.  Windows on the north and south allow natural light to fill the space.  This room provides you with enough space to do a variety of different configurations. An auditorium for 80, a classroom for 40, a conference table for 40 or dinner for 60 are all available in this room.
SCE Meeting Room 713
This room is always in high demand.  The only space with a tiled floor and wall of mirrors, makes this room the perfect location for student groups who feature dance as part of their Student Organization.  With curtains covering the mirrors, the room will function just as well as an auditorium or classroom setting.
Setup Diagrams of SCE Meeting Rooms 613/713